Current/Partner stories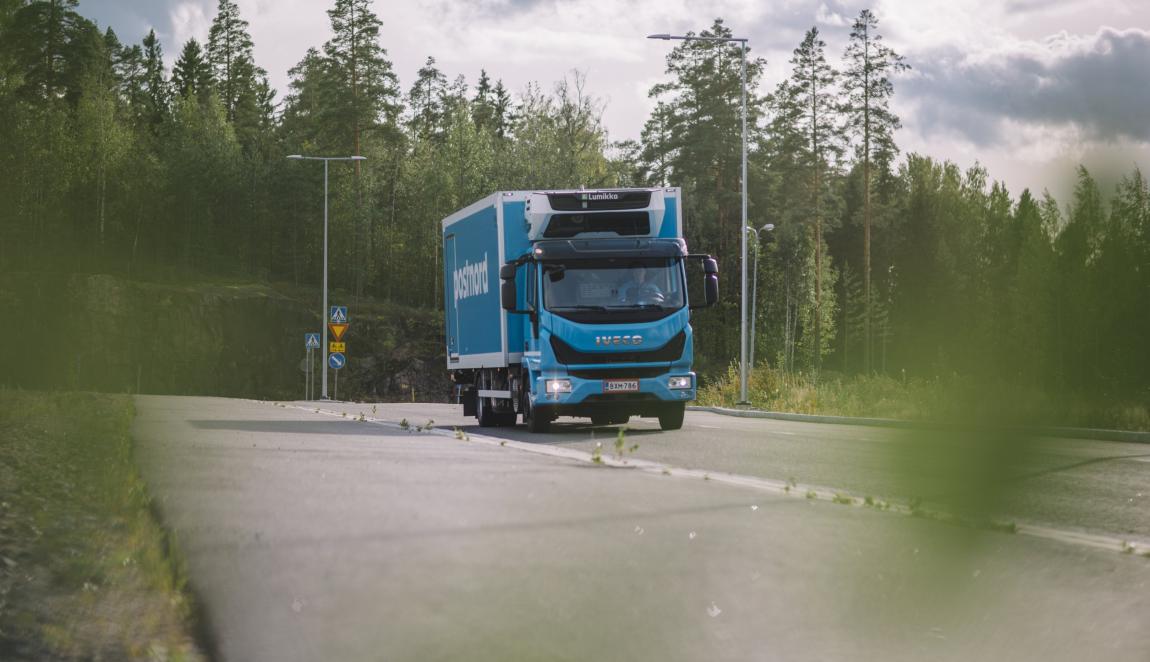 Tamro's logistics are driven by climate goals and legislation governing the transport of medicines and health products. With Tamro's partner Post Nord's biogas-powered vehicles, transport is safe, cost-effective and climate friendly.
Some of the transports of Tamro, Finland's leading medicines and health and wellbeing products distributor and service provider, reach customers with the help of Gasum biogas. Since Tamro's customers can be found across Finland from large cities and built-up areas to the smallest localities, many transport kilometers are clocked up each week. Logistics are a major factor in Tamro's business from the climate impact perspective.
- When choosing our transport partners, we place great emphasis on how well the company's responsibility work is aligned with our own and how it helps us to reach our sustainability goals. On top of this, the transport of medicines and health products is subject to strict legislative requirements, which in turn place many conditions on the fleet used in transport. This means that besides climate and environmental impacts, we also have to take into account transport fleet quality criteria, says Katja Toivonen, Quality Manager at Tamro.
Use of biogas helps to reduce the lifecycle emissions by up to 90% of the fuels used in Tamro's transports compared to conventional fuels. In addition, biogas produces no near emissions or other particulates that are hazardous to health.
Biogas a relevant fuel for logistics in the pharmaceuticals sector
Tamro's logistics partner PostNord has been taking care of demanding special transports in health products since back in 2019. PostNord stood out from the crowd already at the tender negotiation stage because of their responsibility goals and the actual measures taken to reach them. Progress with the measures has been discussed also during the partnership, which has been further strengthened by transparency.
- We aim to cut our emissions by 40% by 2025 compared to 2020 levels. In addition, we plan to switch to completely fossil-free fuels in the Greater Helsinki Region and the Tampere and Turku areas by 2025. The common goal across the PostNord Group is completely fossil-free transport services by 2030, says Ilmo Strömberg, Climate Lead at PostNord.
Biogas is currently used by four vehicles suitable for this type of transport. These vehicles have been fitted with special thermal control technology, which keeps the transport temperature steady regardless of the outside temperature. In most cases, biogas can be used by precisely those vehicles whose suitability for the transport of medicines has already been confirmed. This is why biogas is a very interesting and relevant fuel for logistics in the pharmaceuticals sector.
Cost-efficient emissions reduction
Demand for sustainable supply chains is growing in Finland and the other Nordic countries. More and more companies are now investing in more environmentally friendly gas-powered vehicles. This can be seen most concretely in the operations of leading companies like Tamro and PostNord.
Tamro's transport routes vary greatly and include heavy-duty long-distance routes, short urban routes operated using a lighter fleet and everything in between. Biogas is suitable as a fuel for both passenger cars and delivery vans, as well as heavy-duty tractor units.
- Tamro and PostNord are a brilliant example of a partnership where transport emissions are cost effectively reduced together. The partnership is also a concrete example of the competitive edge biogas provides to companies, says Markku Suopanki, Senior Sales Manager, Gasum.