Current/Society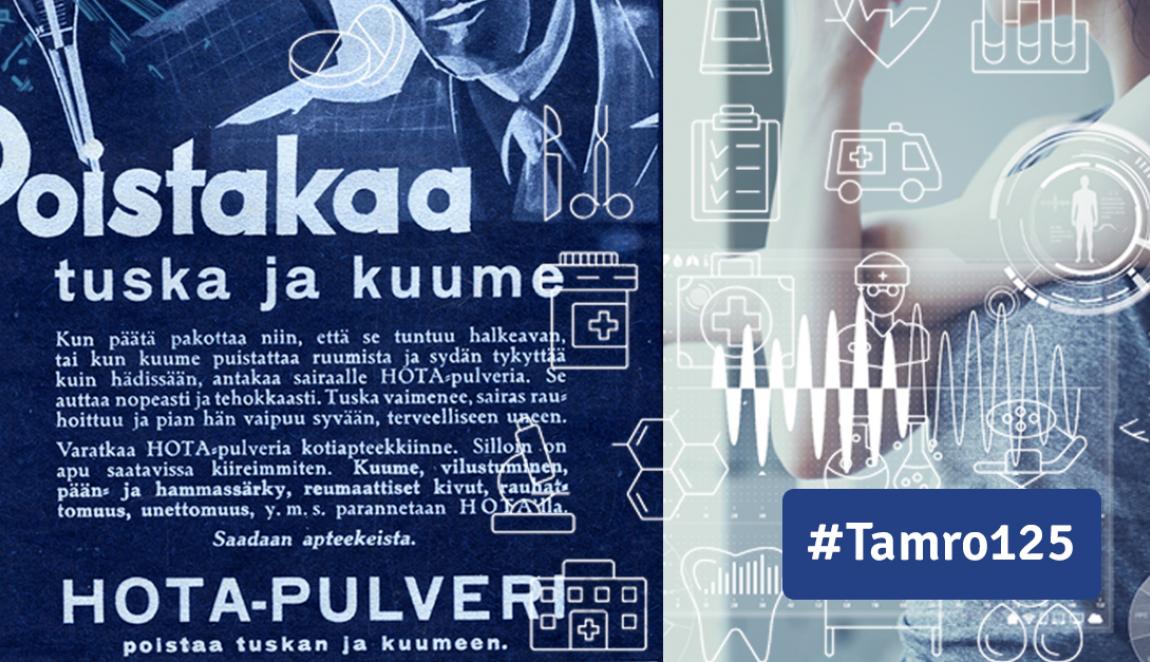 Few people remember that Tamro's long history also includes the manufacture of medicines. Advertised for aches and pains, Hota powder was so popular that it was included in the Finnish cost of living index. This article is part of a series showcasing products and operations from Tamro's 125-year history.
"Away with pain and fever. When the patient has a horrendous headache or when fever makes their body shiver and their heart beat as though in distress, give them HOTA powder. It brings quick and effective relief. The pain fades, and the patient calms down and will soon fall into deep, healthy sleep."
An advertisement for Hota powder from decades ago promises quick relief from aches and pains. Introduced in 1929, Hota powder was originally a hit product of Star, a pharmaceutical factory based in Tampere, Finland. Hota later became one of Tamro's products. Finns relied on the powder in moments of pain, and its huge advertising signs brought solace to the darkening nights. People believed in Hota – Finns enjoyed this invigorating powder for almost all ailments.
Did you know that Hota has an eventful history?
History: A hit product that was even included in the cost of living index
Launched in 1929, Hota was affordable pain relief in powder form. It contained aspirin, phenacetin, vitamin C, kola nut and caffeine. Hota was developed by Helge Aspelund, who worked as a chemist at Star and later also became a board member.
Originally, the powder also contained guarana paste from South America, but the guarana was later replaced with caffeine. Phenacetin was also replaced later, because its side effects were found to include kidney damage. Phenacetin is a pain and fever medicine that resembles paracetamol.
Hota powder was poured directly into the mouth or dissolved in a glass of water. Its taste was described as bitter.
Travelling salesman Tor Borg came up with the name. The most widely known Hota packaging has a picture of a Native American wearing a war bonnet against a yellow and dark blue background. Hota means "holy flower" in one of the indigenous languages of the United States, which is why this medicine was also called "Indian powder". Hota powder was sold in single-dose packets and as a liniment.
Hota's production started to decline in the 1950s. Hota powder lost popularity to Aspirin, an anti-inflammatory drug developed by a German chemist.
Hota used to be so immensely popular that its price was included in the Finnish cost of living index.
Tamro's role: 10,000 single-dose packets per day for soldiers
Tamro's history also includes the manufacture of medicines. During the Winter War, Tamro's Vyborg branch produced 10,000 single-dose packets per day for soldiers.
Star, the company that launched Hota, played a significant role in Finnish pharmaceutical history. Star was created in 1922, when Tampereen Rohdoskauppa, established in 1907, separated its factory operations from its wholesale and retail operations.
Star is related to the early stages of Tamro, which was established in 1971, when Tampereen Rohdos (formerly Tampereen Rohdoskauppa) merged with the pharmaceutical company Aurum-Pharmakom to create Tamro. 
Later in the 1970s, Tamro returned to its roots as a pharmaceutical wholesaler and reduced its production of medicines. In 1987, Tamro discontinued all manufacturing. The production of Hota powder was later transferred to Leiras, now known as Schering.
However, Tamro served as the distributor of Hota powder from its creation until the end of the 1990s, when the product was withdrawn from the market. The National Agency for Medicines revoked the marketing authorisation for Hota powder in 1998.
None of the ingredients of Hota powder were on the list of prohibited ingredients, but having two active anti-inflammatory drugs in the same preparation was against the guidelines of the National Agency for Medicines. The marketing authorisations for Bamyco and Ring were also revoked, because these preparations contained several active ingredients. 
After nearly 70 years, the life cycle of a popular product favoured by several generations had come to an end.  
Sources: Tamro, hs.fi, yle.fi, marmai.fi, is.fi, tampereelta.blogspot.com