Current/Society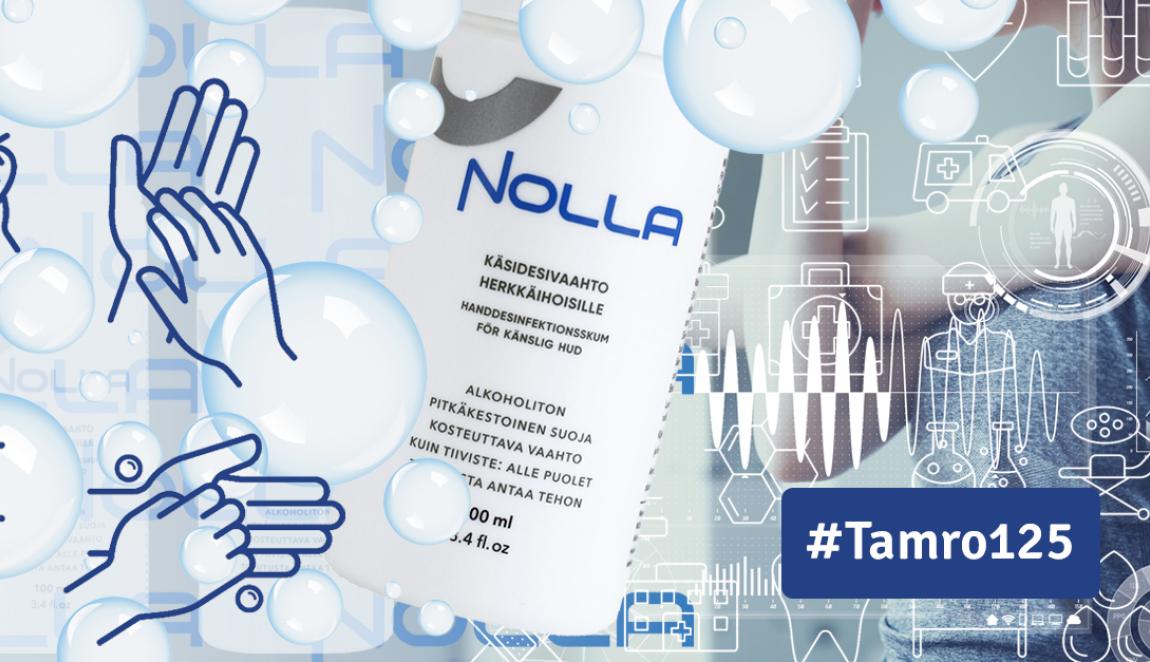 Finnish, completely nonalcoholic Nolla Hand Sanitizer Foam is a major innovation. Launched by technology company Nolla Antimicrobial in spring 2020, the product also aims for foreign markets. Tamro is a Nolla Hand Sanitizer Foam distributor. This article is part of a series showcasing products and operations from Tamro's 125-year history.
The spread of the coronavirus worldwide in 2020 has permanently changed people's attitudes towards hand disinfection. In the past, hand sanitizer were used in hospitals, for example, but now it has become a natural part of our daily lives everywhere.
During the corona spring, Tamro started cooperation with Nolla Antimicrobial, a Finnish technology company that manufactures antimicrobial products.
Nolla Hand Sanitizer Foam is a non-alcoholic and fragrance-free key flag product. The trick of the product, which has been awarded the symbol of the Association for Allergy, Skin and Asthma, is in the silver polymer technology patented by the company, which keeps bacteria and viruses at bay.
What is the history of hand disinfection, and what is the collaboration between Tamro and Nolla Antimicrobial? Tamro's key account manager Ulla Sääski and Nolla Antimicrobial's board member and Mika Virkki, who is responsible for the company's sales, say.
History: Infant mortality was reduced by chlorinated water
The history of hand disinfection in medicine dates back to the 1840s and the finding of the Austrian-Hungarian doctor Ignaz Semmelweis. Semmelweis found that in deliveries treated by doctors in vienna maternity units, infant mortality was at its worst 16 per cent, while in deliveries treated by midwives the figure was only 7.5 per cent.
Semmelweis found that doctors and students brought "death particles" in their hands to the delivery room. When doctors and students began using chlorine solution instead of water and soap washing to disinfect hands in 1847, infant mortality was reduced to the same level as in deliveries treated by midwives.
In the 20th century, the effects of washing and disinfecting hands on the spread of bacteria and viruses were actively studied. In the 1930s, for example, a solution called Zephirol, developed by the German doctor Gerhard Domagk, appeared on the market, suitable not only for cleaning surfaces, but also for disinfecting hands and skin.
The link between increased use of hand sanitizer and reduction in treatment-related infections was also investigated at the University Hospital of Geneva in the 1990s. The study found that as hand sanitizer consumption increased, treatment-related infections decreased significantly.
In European medical care, hand hygiene has long been carried out with hand sanitizer, but in the United States, for example, the use of hand sanitizer only became an alternative to soap washing in 2002.
- Over the decades, we have had hand sanitiances in our distribution, but their share has been relatively small compared to medicines, for example, says Ulla Sääski, Tamro's key customer manager, opening Tamro's hand sanitiance history.
Product: Finnish key flag product suitable for sensitive skin
In spring 2020, Finnish technology company Nolla Antimicrobial Oy launched a whole new kind of Finnish innovation: nonalcoholic hand sanitious foam, which destroys bacteria, yeasts and viruses, including the SARS-CoV-2 virus that causes COVID-19. Due to its non-alcoholic nature, the product is ideal for continuous use even on sensitive skin.
Instead of alcohol, the product's composition uses the patented silver polymer technology Nolla™ Silver Polymer Technology as an active substance, which utilizes silver that destroys bacteria and viruses in its smallest or ionic form. The technology has produced excellent results for the TOP5 superbacteria listed by the World Health Organization, among others.
The year 2019 was a turning point for the company. Nolla Antimicrobial began applying the technology to consumer products – among other things, the hand foam now on the market. At the same time, the company's ownership base strengthened and grew.
According to Virkki, Tamro's choice as a distribution and cooperation partner was natural.
- As a company, we were still quite unknown, so we wanted to choose a company that was profiled as a well-known and knowledgeable distribution partner. Tamro's history as a reliable distributor and comprehensive distribution network determined the decision, says Mika Virkki, the company's sales manager.  
Tamro's role: "Together we consider raising product awareness and meeting demand"
According to Ulla Sääski from Tamro, Nolla Hand Sanitizer Foam is a significant Finnish innovation.
- We take care of the distribution of hand foam to pharmacies, hospitals and grocery stores.  In addition, we are sparring the company to export the product outside Finland in the future, says Sääski.
Tamro's role in the partnership is also consultancy.
- Together with Nolla Antimicrobial, we are considering how we can increase consumer product awareness, respond to rapidly growing demand and promote sales. Our cooperation has been lively and we have discussions over the phone and face to face. We also help with customer service and information.
Mika Virkki considers Tamro's role in the early stages of the company's operations to be very important.
- For example, there are at least six hundred pharmacies in Finland and the quantities ordered per individual pharmacy are relatively small. Tamro has a complete delivery process in this case as well. We alone would not be able to offer pharmacies the corresponding delivery times and flexibility, Virkki says.
According to Virkki, Tamro knows the market in the industry and also offers lessons to the people of Nolla Antimicrobial.
- We have gained excellent experience and insight from Tamro, for example from consumer sales to the pharmacy channel. As part of the PHOENIX Group, Europe's leading provider of healthcare services, Tamro is able to help us connect with other Group companies in the country and thereby help expand the distribution of Nolla products in Europe.
The sources of the history of hand disinfection are also: Duodecimlehti.fi, bayer.com
Hand hygiene guidelines of the National Institute for Health and Welfare: https://thl.fi/fi/web/infektiotaudit-ja-rokotukset/taudit-ja-torjunta/infektioiden-ehkaisy-ja-torjuntaohjeita/kasihygieniaohjeet-ammattilaisille