Current/Innovations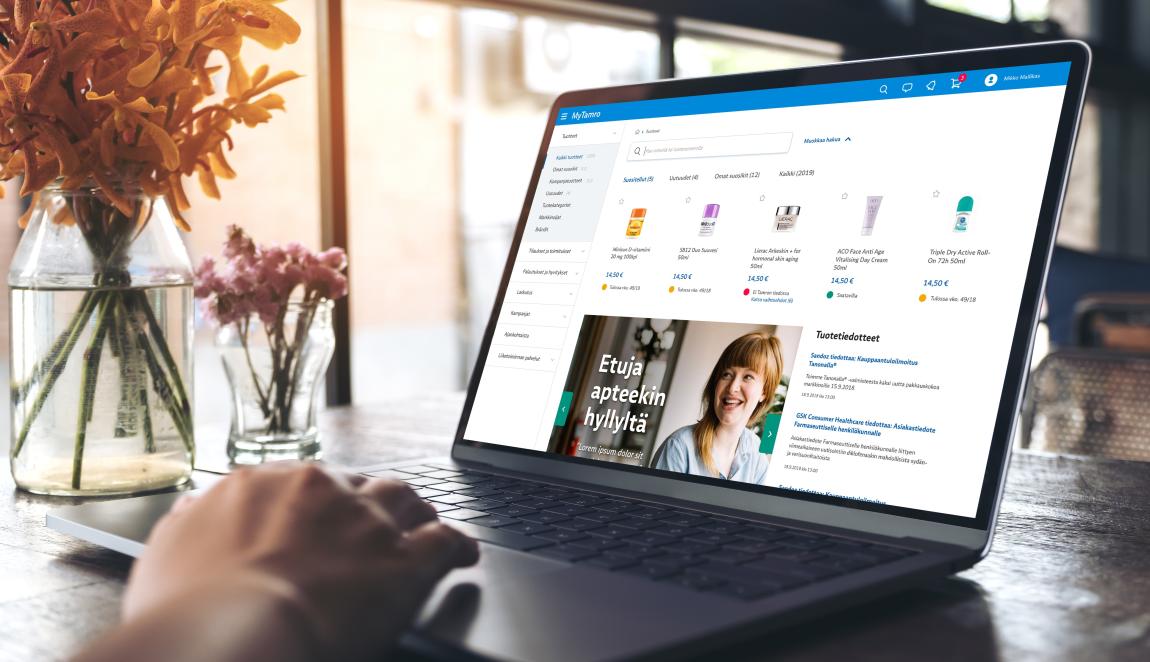 MyTamro is a new digital service channel that brings together all digital services by Tamro and offers pharmacies new tools for marketing campaigns and more versatile product information, among other uses. Future users of MyTamro include all of Tamro's customers from pharmacies to hospital pharmacies, pharmaceutical centres, natural product stores and other healthcare service providers and pharmaceutical and health product companies. Jenny Mäkinen, Digital Services Manager at Tamro, talks about the new service platform's features and benefits for pharmacies.
What is the MyTamro service platform?
MyTamro (www.mytamro.fi) is an easy-to-use browser-based service platform that connects pharmaceutical and health product manufacturers with Tamro's customers interested in their products.
The service channel has been developed in collaboration with our customers to best serve their needs. For example, instead of merging together our old services, we rebuild and redesign existing services and develop entirely new services. This way, we want to increase the value of our services to our customers.
MyTamro includes a modern B2B online store with a smart search function and extensive product information. The store also lists product availability information, delivery times and the latest product newsletters.
MyTamro will replace the old Tamro Portti service for pharmacies by 18 October and the TWD service by the end of October. In other words, now is the right time to switch to MyTamro! 
Who is the MyTamro service for?
MyTamro is a common service platform for all of Tamro's stakeholders. The largest user group consists of pharmacies and hospital pharmacies. Our other customer groups include pharmaceutical centres, natural product stores and private healthcare, dental and veterinary care providers.
Pharmaceutical and health product companies can maintain and enrich their product information in MyTamro with images, videos, links and text. By sharing the same product view for pharmacies and other buying customers, we are able to raise awareness on available products and allow pharmacists to use the information to assist in their customers' and patients' treatment.
The service platform is being constantly expanded and developed. For example, we will soon be adding a feature to allow orders to be integrated with the pharmacy's system. 
What new does MyTamro offer pharmacies?
With MyTamro, our customers' work becomes easier and more efficient as many of Tamro's existing digital services become part of MyTamro and capable of communicating with one another.
In the service channel, pharmacies can view their order history and order statuses as well as invoices and VAT reports. A new feature is the campaign service, in which pharmacists can preview upcoming campaigns by pharmaceutical and health product companies and pick and choose suitable campaigns for their pharmacy. 
Pharmacies and other retailers that sell to consumers constantly require a wide range of product information and understanding. Now, pharmacies can check MyTamro to see what information and instructions are available on a product and share it with their customers. All our customers are specialist organisations that find it extremely important to ensure that the information they share with their customers is accurate and verified. The new tools in MyTamro also make it easier to plan marketing and sales campaigns for products.
How do I set up the MyTamro service platform?
Getting started with MyTamro is simple. If the pharmacy employee has login credentials to our old Tamro Portti service, the same username and access rights are transferred over to MyTamro. We are actively communicating with our customers about the change and advising on the best course of action.
Get started now with MyTamro!
Go to www.mytamro.fi
Use your personal Tamro Portti username and password. The rights assigned to your username determine whether you have access to order information in MyTamro, for example.
If you don't remember your Tamro Portti username or password or they do not work, you can renew your password from the link on the MyTamro login page.
For more about MyTamro, email asiakaspalvelu@tamro.com or call +358 20 445 3300.