Current/Partner stories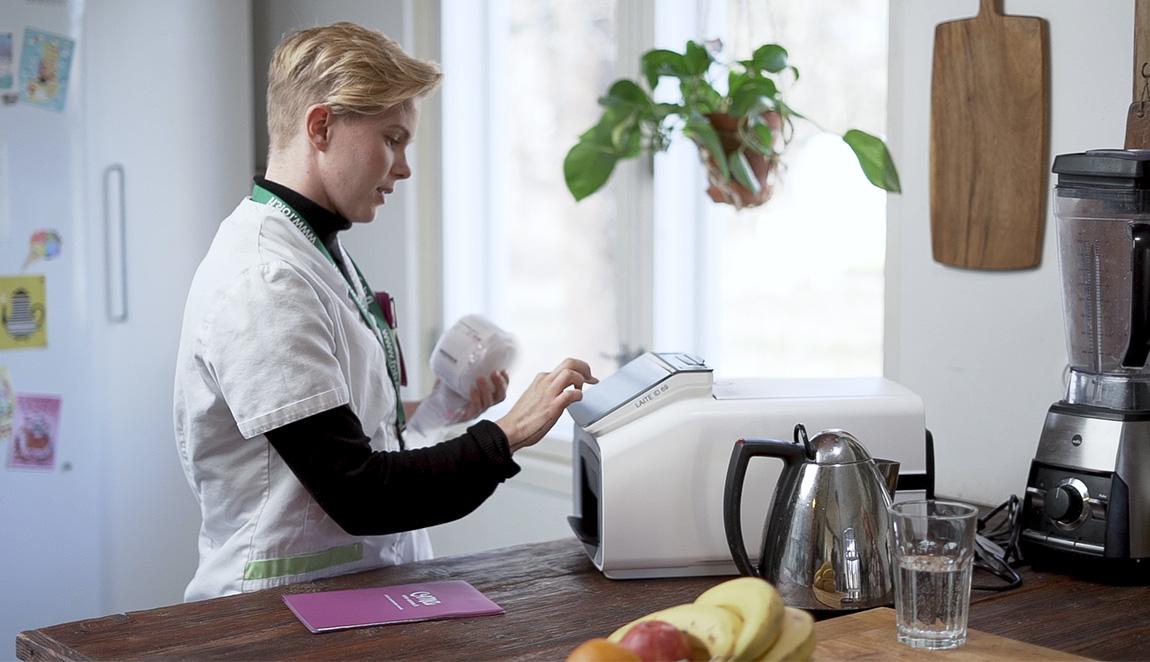 The home care providers of the Selänne joint municipal authority and their elderly customers are equally accustomed to using new technologies. The Smila care service makes communication and handling medication-related matters much easier. "Living in rural areas, we need to be creative and introduce new technologies, because our population tends to be older and the distances are long," says Virpi Jaatinen, director of nursing and care for the elderly.
The joint municipal authority of Selänne has systematically developed its digital service offering, and the area also has its own remote care team. Anyone can learn to use new technologies, regardless of age. Hannele Koski, Selänne's director of health and services for the elderly, describes how happy a 97-year-old customer was to be able to use a tablet computer.
- This person even told the nurse that they had finally got the thing they were waiting for. They had seen Finnish entrepreneur and celebrity Aira Samulin use one on TV ten years ago and thought, 'I want one of those as well!
The Selänne joint municipality authority covers the towns of Haapajärvi, Pyhäjärvi, Reisjärvi and parts of Kärsämäki. Of the approximately 15,000 residents in the area, 30 per cent are over the age of 65, and home care workers must often travel long distances to visit their clients.
- Compared to the nationwide average, we have a lot of home care customers in proportion to the total number of inhabitant, Koski says.
Smila increases customers' control over their own lives
For years, the home care services in the area have used medicine dispensers. They have now used Tamro's Smila care service for about a year.    
– Our home care customers are glad they can now take their medicine independently. This has increased their sense of control – that they can manage on their own. However, the dispenser is not suitable for everyone. It is not an option for patients with advanced dementia, for example, Hannele Koski says.
Smila allows home care employees to communicate with their customers with video calls. When Selänne made the decision to purchase the service, this feature was considered especially important.
– Both home care employees and customers find Smila easy to use. Video calls offer caregivers and customers a convenient way to communicate with one another.
When using a remote connection, the caregiver can focus exclusively on their interaction with the customer.
– These video calls are an important source of energy and communication for our customers. Once, an older gentleman was telling his caregiver about how he used to work in Lapland long ago. The caregiver showed him a photograph of the house he used to live in decades ago on Google Maps. He was overjoyed to see it! This creates genuine interaction between caregivers and customers, says Koski.
Smila also helps family carers 
In the Selänne area, both home care employees and their customers are accustomed to digital tools and technologies.
– After the initial prejudices, even our customers' family members are happy with the device. It makes life easier for family carers in particular. With the device shouldering some of the work, family carers have one less thing to worry about every day, says Virpi Jaatinen, director of nursing and care for the elderly.
In the joint municipality authority's surveys, caregivers have reported that their wellbeing at work has increased after the medicine dispensers were introduced. Mornings are a busy time for home care employees, as they dispense all sorts of medications and take care of morning routines.
– When you are out there dispensing medicines all morning, you feel rushed for the rest of the day, even when things are quieter. This is very stressful for the home care employees. The medicine dispensers have reduced the strain on them and evened out the rush times. This also leaves more time for meeting customers, Hannele Koski says. 
Smila has created savings for Selänne 
Koski is happy to report that using the Smila care service has also saved a lot of money for the joint municipal authority. Municipal decision-makers have also been impressed, having received positive feedback from service users.
– The savings created by just one Smila device already cover the costs of all 15 devices currently in use.