Current/People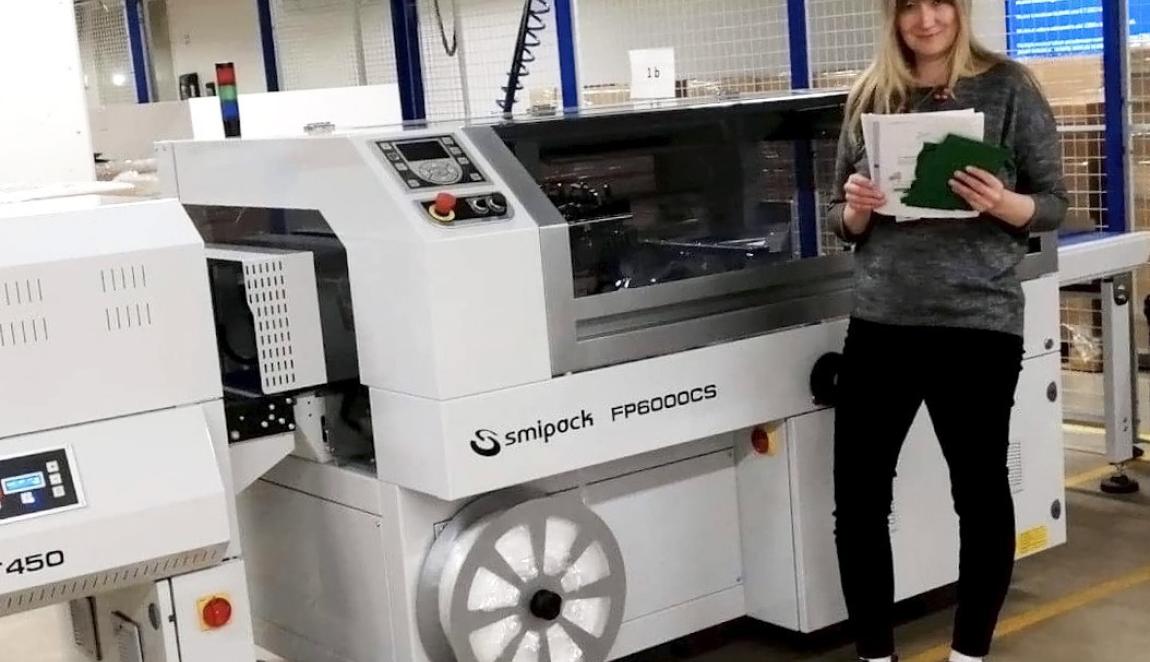 - I find the pharmaceutical industry fascinating, and I have been completely captivated by it from the moment I first opened the doors at Tamro in Konala, Helsinki, 30 years ago. I was 16 years old and had just finished comprehensive school. I started working as a messenger in the mailing department the very first day after school.
In hindsight, it seems like the decades have flashed past. I have been able to do a lot of different jobs at Tamro. The most inspiring thing about working here has been the opportunity to constantly learn something new.
The work is varied, and every day is different. The pharmaceutical industry is strictly regulated, but the constantly changing regulations and solving the challenges that come up match my personality very well. I wouldn't want to do the same thing day in, day out.
I now work at Tamrotalo in Vantaa as a production supervisor in the pharmaceutical factory and packing department. Safety and quality are the most important things in the handling and distribution of medicines. As a Tamro employee, I'm particularly proud of Tamro's highly advanced and standardised quality thinking.
My work requires problem-solving skills, accuracy and punctuality, but it's also important to understand the values and ethical principles of the industry. I'm grateful to my employer for trusting me and giving me responsibility – that is also something I have grown into as my duties have changed.
Her mother's tip brought Pia to Tamro
- In the summer of 1990, I would never have believed I would still be at Tamro at 46. After finishing school, I had no idea what I wanted to study. My mother was working at Tamro at the time and said there was a vacancy in the mailing department. She encouraged me to apply for it and use my gap year to decide what I wanted to do.
It was a lovely summer – everything was new and exciting. My job mainly consisted of sorting and delivering mail. The warehouse had a pneumatic tube conveyor and a clock card system. From the telefax room, I faxed the previous day's sales data to managers every morning.
Tamro's premises were in Konala at the time, and I was there for a year until the new, magnificent Tamrotalo was opened in Rajatorpantie, Vantaa in 1991. As a young girl, I was impressed by the modern, bright building. I remember admiring the fact that each floor had a different colour scheme. The meeting rooms were named after prominent people from Tamro. Even the facilities of the mailing department were much bigger and more sophisticated.
When I got my driving licence, my job description became more varied. For a while, I stood in for the external messenger and took cheques from the chief cashier to some of the largest banks in Helsinki every morning and to banks in the surrounding area in the afternoons. I have also stood in for the switchboard operator, carried out preliminary recording of invoices in the finance department and been in charge of ordering office supplies for the stationary store and invoicing customers.
In 1999, I took maternity leave and when I returned there was a fairly extensive organisational reform going on at Tamro. The company's operations had grown, and I was asked if I would like to work in the warehouse. The time was right for a change, and I didn't hesitate for a moment to seize the new challenge.
I acted as a contact person for medicinal product samples, which means cooperating with representatives of pharmaceutical companies, taking care of the distribution of medicinal product samples and attending to services related to clinical investigational medicinal products. At that time, Tamro's distribution of pharmaceuticals already included a huge number of items you had to master. Training for all the duties required in the warehouse is very important and the personnel's expertise is updated regularly.
I appreciate that I have been able to transfer in-house to new, different jobs and that Tamro has always offered me additional training whenever I have needed or wanted it.
Apprenticeship to become a pharmaceutical professional
- Even though I enjoyed my work, it bothered me that I hadn't studied anything beyond comprehensive school. I had become very interested in the pharmaceutical industry and wanted to learn more. I'm grateful that Tamro gave me the opportunity to train as a pharmacy technician under an apprenticeship contract alongside working.
I started my studies in November 2012. Pharmacy technician is a basic vocational qualification, and I graduated in 18 months. It still makes me happy to think that so many people from Tamro committed themselves to my training at that time and acted as my workplace instructors.
In 2014, I started my current job. I'm in charge of the pharmaceutical factory's and packing department's scheduling, I act as a contact person for our customers and make sure that the work is completed on time and that there are sufficient resources available. I like taking care of a lot of different things at the same time.
Quality is at the heart of all our work at Tamro, and quality thinking encourages me to keep improving myself and our operating methods. Quality means, among other things, that we perform each job according to the relevant quality standards and operating instructions. All the stages of work are documented. There's a saying in the industry that what hasn't been documented, hasn't been done. Quality thinking means that everything you do can be traced.
Pia found the love of her life at Tamro's staff party
- I identify myself as a member of the Tamro family. I have always thought of Tamro as a quality company. Here, the personnel are valued, supported and taken into account. I have always had great colleagues, which has helped me feel at home here.
Some of my best memories include events where the personnel were allowed to bring their children to work and given a tour of Tamro.
I even met my common-law husband at Tamro. We met at a staff party in the early 1990s – and we're still together today. My partner is now working elsewhere, but it's nice to think that our journey together is only a few years shorter than my career at Tamro.
I like to relax by spending time at the summer cottage and I'm also a passionate supporter of the HIFK ice hockey team. I love collecting old Finnish glass products. My partner supports me in this, and we usually plan our trips to see HIFK play so that we can visit local antique shops and flea markets at the same time.
Who knows, I may even continue to work at Tamro until I retire. The way I see it, since I've enjoyed working here for 30 years, why not enjoy it for another 30! I can well imagine staying on at Tamro until the day I celebrate starting my retirement over coffee and cake with my colleagues.