Current/Health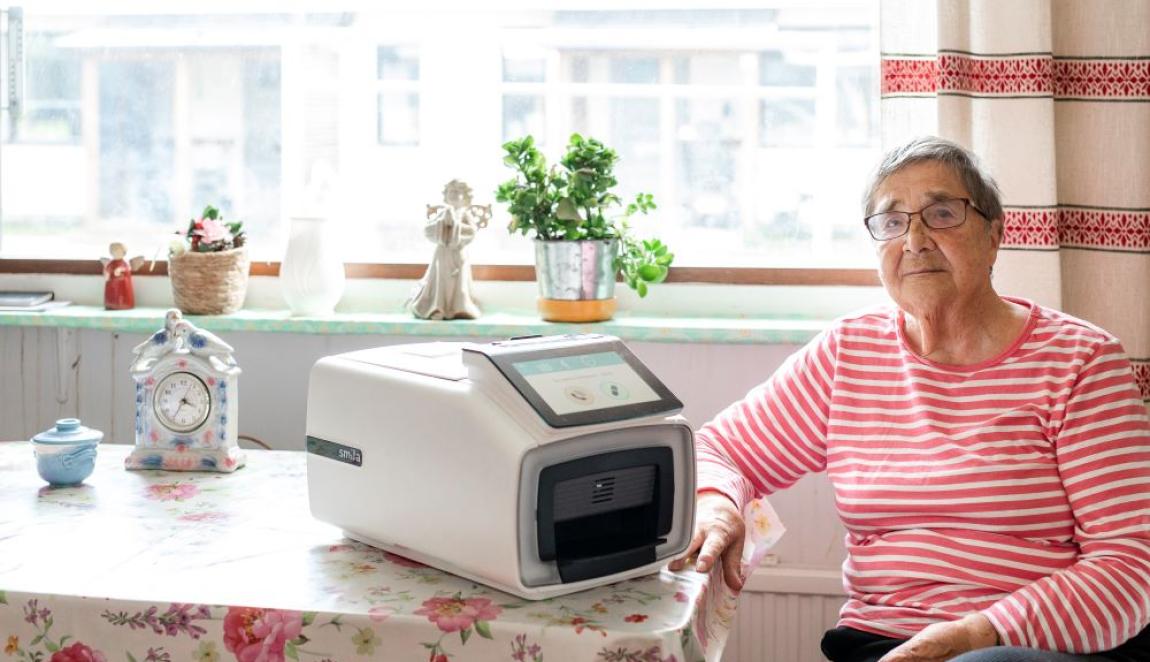 The day has dawned at Sylvi Lamminpää's home in Tammela nice and calmly.
While watching the morning TV it is interrupted for a moment when a pleasant announcement sound from the white device which is placed on a corner of a table says: It's time to take the first dose of medicine of the day.
It is Tamro's automatic medicine dispenser, Smila, which Lamminpää has had for about 18 months now. She was among the first home care clients in Tammela to use the device.
Technology has come to relieve nurses work, not to replace them. Technology and robotics, for example, are helping to create security in the daily lives of elderly, to improve medication safety and bring flexibility to the way nurses plan their work.
Keeping control of your own life
Smila is a home or nursing unit-based care service, which key component is medical dose dispensing. The machine makes use of a dose dispensing service provided by a pharmacy, with each dose of medication in a single sachet. This ensures that the customer always gets the right medication and the right dosage.
Smila also reminds the user to take their medication at the right time and notifies the care unit if some medication is not taken. Smila ensures safe medical treatment and ensures independent daily life for the elderly. 
"Smila is suitable for anyone who is still able to live at home. It's been great to see how older people retain control of their lives and a get a sense of freedom just because they can take their medicine independently," says Paula Pietilä of Tammela's home care unit.
Both Sylvi Lamminpää and the home care workers have positive things to say about Smila.
"I was at first a bit suspicious about the device, but I soon realised it's a nice new friend."
Before Smila, I sometimes forgot to take my medicine, but that doesn't happen any more. It's also nice that I don't have to wait for the nurse to come round and give me my medicine. I can come and go as I please, to the hairdresser's, for example. I don't have to rely on other people's timetables," says Sylvi Lamminpää.
Nurses appreciate the ease of use of the device.
"The device tells you what to do and you don't have to be afraid of making mistakes. The fingerprint log-in is an excellent feature. You can focus more on care, as you do not have to worry about usernames and passwords," says Paula Pietilä.
Smoothes the workload and saves steps
Paula Pietilä and her nurse colleagues have noticed that Smila reduces their workload. Tammela is quite spread out over long distances, so you save time when you do not have to go to each customer for their medication. Smila also reduces the morning and evening rush, as home calls do not have to be made when people usually need to take their medication.
"We are grateful for anything that makes our work easier. Thanks to Smila, we can visit more people that need our help on a daily basis. If people manage on their own, like Sylvi, we refill the device every fortnight. That's when we also take their blood pressure and provide any other necessary care," says Pietilä.
Care technology for an ageing population
Smila has turned out to be a good solution for six elderly persons. With each new customer, the care team considers whether Smila is suitable for them. If we think a person will benefit from it, we recommend it to them.
As the population is getting older, there are more and more home care clients. In Tammela, home care is provided for a little over a hundred people. Within the entire area where health services are provided, which includes not only Tammela but also Forssa, Humppila, Jokioinen and Ypäjä, home care is provided to more than five hundred. Of the some 32,000 people living in the area, 31 per cent are over the age of 65.
According to Tea Mills, Senior Sales Manager at Tamro, Smila was launched to the market in August 2021, and is currently used in ten municipalities around Finland.
"We are delighted that Smila was taken into active use in Tammela after the pilot. The device also serves as a communication channel: the home care nurses can use a video link to communicate with the clients. This feature was important for the municipality when they purchased the service," says Mills.
Smila
is a care service from Tamro, used at home or in a care unit, with an automatic medicine dispenser, reminds its user to take their medication, notifying the care unit if any medication is not taken
enables safe and independent daily life at home for as long as possible
enables home care providers to do other care work and spend more time with customers, and makes the scheduling of home calls easier
enables the customer and home care to communicate with each other:  the customer can contact home care workers through Smila.
Originally published in the Finnish Pensioners' Federation magazine. Photo by Päivi Ryhtä.