Current/People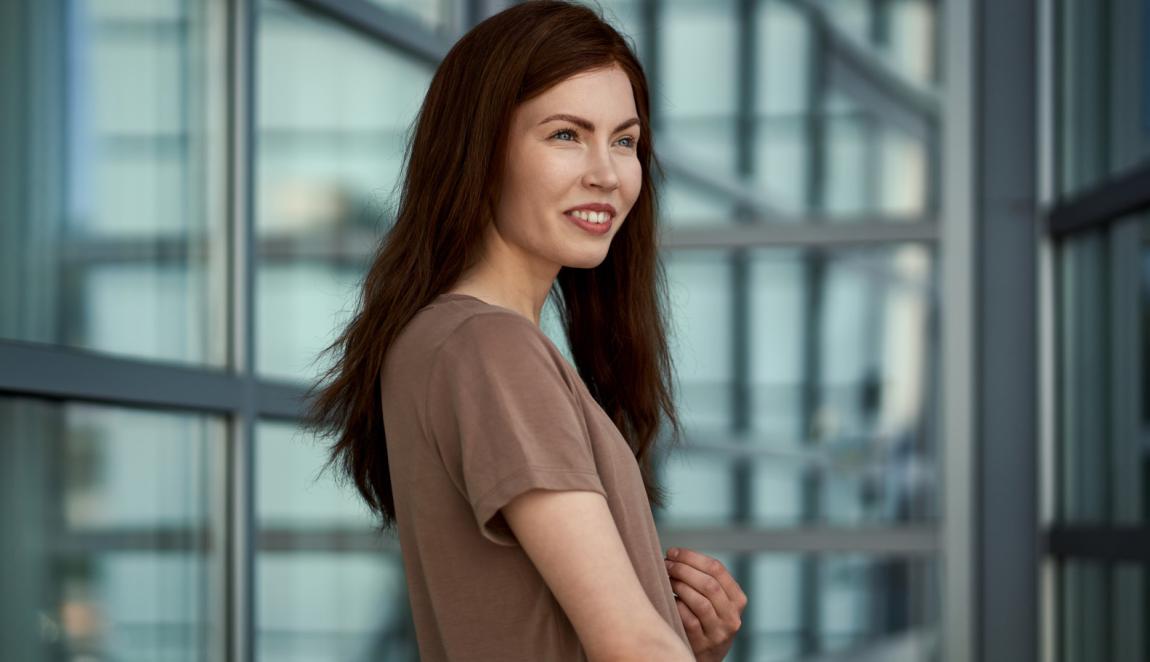 As Tamro's new warehouse worker this summer, 23-year-old medical student Katarina Kuikko has the chance to learn the route of drugs from manufacturers to pharmacy shelves and hospital cabinets. In this three-part series, we follow Kuikko's summer as she learns the ins and outs of warehouse work.
A Tampere native, Kuikko is determined to learn her field from as many angles as possible.
– Through my studies, I need to be aware of the effects of different drugs on the body, but I also want to understand where the medication I prescribe patients comes from and how they end up to customers, Kuikko says.
Back in May while starting out in her summer job as a warehouse picker, Katarina Kuikko was taken aback by the hustle and bustle at Tamro's distribution centre in Tampere. Even as the largest spike in demand caused by the COVID-19 crisis had subsided, quiet days have been few and far between since then.
– I was astonished by the amount of drugs that are sent out all across Finland every single day!" You have a constant stream of drug shipments in every workstation and a huge warehouse stacked full of drugs and pharmacy products from floor to ceiling, says Kuikko.
Tamro is responsible for distribution for a large part of Finland's pharmaceuticals market and supplies products to hospitals, pharmacies and public and private healthcare providers.
– Our job is to fill the orders that come through us every day by picking, packing and shipping out products to buyers. Although sometimes repetitive, our work is meaningful: we are responsible for making sure that the right amount of the right drugs reach our customers reliably. We are doing our part to help ensure Finland's security of supply, says Kuikko, a first-year medical student.
Learning the language of picking stations
Katarina Kuikko's first days on the job were spent in onboarding and getting to know Tamro, but she also got the chance to apply her knowledge in practice. Kuikko tells that she benefited from previous work experience at a warehouse.
– Still, I was surprised by the huge scale of the pharmaceutical industry. Another area that was alien to her was the industry jargon related to picking products: what are cold storage duty, manual pallet station or the Bütema scanner? A few days were spent simply learning her way around the enormous warehouse.
Even after a month on the job, Kuikko still learns new every day as there are numerous different stations, each with their own machinery and methods for filling orders.
– At one picking station, we retrieve certain drugs and products from a specific unit and shelf according to instructions. At another station, we refill the Pemat picking machine, which automatically picks products for orders from the shelves, Kuikko says.
So far, Kuikko has worked only one shift at the warehouse's light panel station. She hopes to learn more about the station before the summer is over.
– The station is a conveyor belt with several posts, each manned by an employee. The posts are surrounded by shelves of products, and the lights turn on different products to indicate the items and quantities to be picked for the order.
Every order is unique
The sizes of orders picked by Katarina vary from individual products to batches of dozens of different drugs. For this reason, the work requires precision.
– Besides drugs, we ship out other products sold at pharmacies and other locations. Orders for a single product can be picked in no time, but orders of more than 50 different products must be filled carefully to ensure that the right amounts are shipped.
Katarina hoped for a summer job that would involve physical labour, and work at Tamro's distribution centre has offered just that: she works on her feet, moving around and lifting boxes, some of them heavy. The work is not solitary.
– Already in training, we had six summer workers on the same task at a time. Each workstation also has several posts, and coworkers are never far away. I feel comfortable about asking for advice and never need to face new situations alone."
Katarina Kuikko
I am working... for the first summer at Tamro's logistics centre in Tampere.
I am... a first-year medical student at the University of Tampere.
From my summer job, I expect... physical labour and a new perspective on my field.
In my work, I value... the opportunity to learn about the pharmaceutical supply chain, from manufacturers to users.