Current/People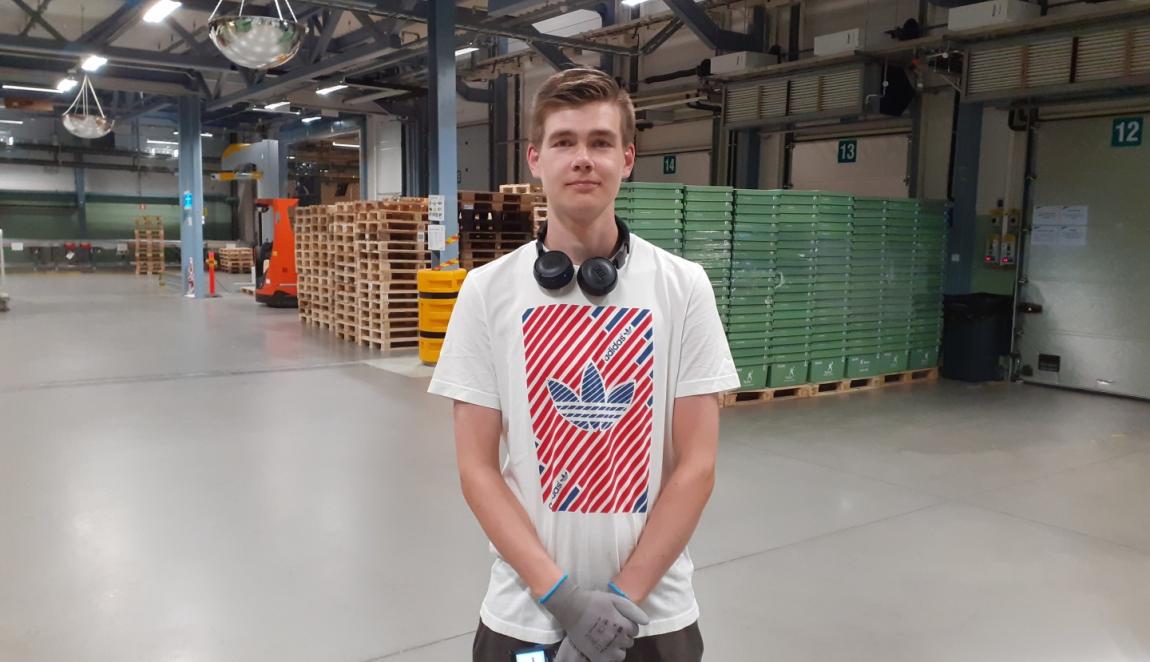 English student Ville Penkari scored a summer job for 2020 at Tamro's warehouse in Tampere. Due to the COVID-19 crisis, Tamro asked summer workers to start earlier than planned and Penkari joined the team a full month early in May.
– I have already learned a great deal on the job. At our three-day onboarding, I understood the importance of our work to the security of supply in Finland. In my previous jobs, I have never received such a thorough onboarding as with Tamro, says Penkari.
At the training, new employees also learned some of the jargon used in the industry. Like other employees, summer workers receive pharmaceutical GDP training (Good Distribution Practices) in line with European standards.
Through practice, the new terminology quickly become a part of employees' basic vocabulary.
Ville Penkari shares a few basic concepts used in the pharmaceutical industry. Summer workers at Tamro cannot do without these – and Finns won't get their medicine.
A pharmaceutical wholesaler serves customers of all sizes
– During our onboarding, I came to understand how important the pharmaceutical supply chain and its continuity are to society. The supply of medicines to pharmacies and hospitals must be kept free of delays and interruptions at all times, says Ville Penkari.
– I used to think of a pharmaceutical wholesaler as a sort of huge wholesaler that dispatches enormous amounts of drugs to different buyers. Now I know that pharmaceutical wholesalers such as Tamro don't just focus on large orders, but must also be able to deliver products in small volumes to individual pharmacies and hospitals, for example. Here at the warehouse, we are always packing orders of all sizes for delivery.
At his summer job, Ville has also learned what is meant by single-channel distribution.
– It means that a pharmaceutical product is distributed to customers through a single distributor. For example, pharmacies and hospitals buy a certain well-known painkiller exclusively through Tamro.
Bütema scans the necessary information
The first time he saw Tamro's distribution centre, Ville Penkari was stunned  by its size.
– I didn't fully realise how enormous the place is before seeing it with my own eyes. The warehouse is massive, with more than 22,000 pallet slots  and enough drugs to last for a while! Another thing that amazed me was how automated the warehouse's functions are and how extensive and complex the pharmaceutical supply chain is, says Penkari.
Warehouse workers carry a handheld Bütema scanner at all times during the day. The scanner is Ville's most important tool.
– We use Bütema scanners for nearly all tasks,  from picking products for orders to filling shelves.
Employees pick products for orders at different stations along the warehouse's conveyor belt track. All new employees initially work at the same station for a few days at a time in order to properly learn the tasks.
– You learn quickly when you get to do things yourself. One important station is the light panel, for example. When a box moves along the belt to this station, a light turns on to notify the worker which products need to be picked from nearby shelves. After this, the box continues to the next station and finally to the shipping room, says Ville Penkari.
– Along the conveyor track is also a manual pallet unit where larger products are picked using the handheld scanner. The manual pallet unit has eight different stations. One of these is used to pick nutritional beverages and other liquid products. Another station is the Pemat machine, which picks products automatically while the employee refills the machine. It is used mainly for light products.
First expired is first out
Workers must exercise care when handling products at the warehouse.
– We use the FEFO principle (first expired, first out), which means that products that will expire next must be shipped out first.
For a language student, the different names and concepts are easy to remember.
– The jargon we use is fairly straightforward. We also have a low hierarchy and several supervisors who we can always turn to if something is unclear. They are very easy to talk to. From the get-go, we were told to always ask any questions and help others in need. These are good practices to uphold.
Ville Penkari
I am working... for the first summer at Tamro's logistics centre in Tampere.
I study... English at the University of Tampere.
I value... the informative three-day onboarding I received for the job and the pharmaceutical supply chain as a whole!